We're A Family Run Web Design UK Company
Experienced Web Designers UK – Creating Bespoke Websites
Custom Web Design UK, In House Team, No Monthly Fees
We're 100% UK Based Family Run Web Design Company
Affordable Websites from £495.00, No Monthly Costs!
Fully Mobile and Tablet Friendly Website Designs
Unlimited Design Revisions Until You're 100% Happy
Initial Website Design Draft within 7 - 10 Working days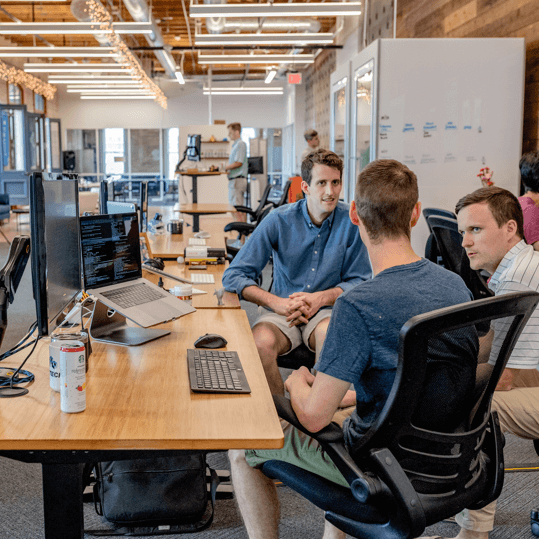 We Are Bemunchie. Your Local Web Design Company
Creating Custom & Affordable Websites UK
We're a Family Run UK Website Design Company specialising in creating bespoke mobile friendly website design & SEO marketing services, all our websites are custom built to suit your business goals.
As a small tight knit team, we have our inhouse experienced web designers so whether you're looking to advertise your services or even sell products or get bookings online through your new website. We can provide a website design package that's right for your business.
We have a very simple process once we get started on your new business website. You will have regular calls in the week to keep you updated throughout the entire web design & development process, once your new business website is live, you get free ongoing support too.
As a UK based family run website design company, we don't just offer a service but we look to build a long term relationship with all our customers, this allows us to provide customer satisfaction alongside a great quality website that provides results.
Over 15+ Years Experience in Bespoke Web Design & Development
Steven Young
20, June 2022

So Where do i begin , after an initial Discussion with Bobby and hours of researching websites. I came to the decision to use Bemunchie. Terry has been absolutely amazing and nothing was any problem for the man. I would recommend Bemunchie and their website building team. Totally Amazing !!!
Adam Collings
14, June 2022

Absolutely epic this company Bobby and the team are just what I needed . Not great at the web site of my business but Bobby and the team were brilliant helping me get myself online with a brilliant website and logo thanks again

Bemunchie were great to deal with and so patient during the creation of my website for childrens parties and event entertainment. They were easy to reach when I needed them and their process of keeping the client updated and involved as the website progresses was wonderful and very efficient. Very happy and would recommend their services to those looking.

After spending 4 months with nothing to show and having been ripped off by two website designers (please beware there are sharks out there) Bemunchie saved the day. Had my website up and running in no time at all. Polite, kind, creative, knowledgeable and so reactive it was untrue! I am so pleased thank you, thank you, thank you!
Affordable & Bespoke Website Design, In-House Team of Web Designers
Here's Some of the Services Included
Get Full Access to your New Website
Once your website's live, you can update your site with an easy content management system. You'll have full access
1 Year Free Hosting & SSL Certificate
We provide free managed web hosting along with a free SSL certificate to secure your new site.
Mobile & Tablet Friendly Website Design
All our websites are mobile and tablet responsive, they'll work on all devices, both portrait and landscape view
Unlimited Web Design Revisions
Yes! We continue to work on your new web design until you're 100% happy and ready to go live.
Free Ongoing Techincal Support & Maintenance
Once your website is live, we provide free ongoing technical support via phone or email.
See All Your website Traffic & Data
We'll integrate Google Analytics to your bespoke website so you'll know who visited your website.
Business Email addresses Included
All our website packages include multiple email accounts that work on Outlook, mobile & tablet etc
Free .CO.UK or .COM Domain
With all our website packages we provide 1 free .co.uk or .com domain of your choice.
Your Local, Affordable, Bespoke Web Design Company
Creating Websites For All Types of Budgets